New York, N.Y., Dec 2, 2012
- The case of a New Jersey family seeking justice for the murder of their loved one, Walter Patterson, 50 years ago was profiled by CBS 48 Hours reporter Susan Spenser, in what 48 Hours called "one of the coldest cases in U.S. history." 48 Hours filmed the family testifying at a congressional hearing chaired by Cong. Chris Smith. The network premiere, "The Hunt for Mr. Wright," aired Dec. 1.
Smith (NJ04), chairman of the Commission on Security and Cooperation in Europe (U.S. Helsinki Commission), held the hearing in July called "Justice in the International Extradition System: The Case of George Wright and Beyond."

To watch the extensive video of the 48 Hourse episode, click here.

George Wright was convicted in 1963 of murdering Walter Patterson during an armed robbery. He is also sought as a prison escapee and for the 1972 hijacking of a passenger jet. Last year, the FBI and Portuguese law enforcement located him in a coastal village in Portugal, but a Portuguese court denied the United States' request to have him extradited.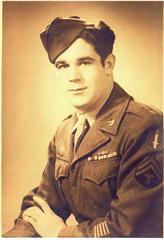 Bronze Star recipient
Walter Patterson in his WWII uniform.
48 Hours interviewed numerous people for the piece, including some of the witnesses at Smiths's hearing, such as Ann Patterson, daughter of Walter Patterson, other family members and R. J. Gallagher, the now-retired FBI Special Agent who led the efforts to track Wright down. Click here to watch the hearing, or read witnesses' testimony.

The episode was produced by Josh Yaeger, is posted on the CBS website at:

http://www.cbsnews.com/video/watch/?id=50136230n