Press Release
Smith Receives the Order of Timor-Leste
The Prime Minister of the Southeast Asian nation of Timor-Leste, Dr. Rui Maria de Araújo, and former President and hero of Timorese independence Kay Rala Xanana Gusmão today bestowed the Order of Timor-Leste to Rep. Chris Smith (NJ-04), Chairman of a House panel on human rights. The Order of Timor-Leste is given in special recognition to those "who have made a significant contribution to the country of Timor Leste, to the Timorese or to all Mankind."
Rep. Smith and former President Gusmao look back on nearly two decades of work for the freedom of the Timorese people
"I have always stood—and will continue to stand—with the people of Timor-Leste," said Smith in a statement after the ceremony. "I am humbled by this unexpected honor. The Timorese people are an example of perseverance as they continue to protect their hard fought independence. I also commend the people of Timor-Leste for effectively protecting and promoting fundamental human rights."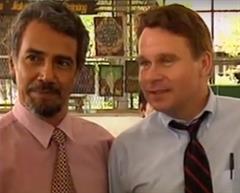 Rep. Smith and former President Gusmao in 1998 while Gusmao was a political prisoner of the Indonesian Government held in Jakarta
The award was given in acknowledgement of Smith's longstanding support for the people of Timor-Leste, highlighted by his meeting with independence leader Gusmao in 1998 while he was a political prisoner in an Indonesian jail in Jakarta. Gusmao, along with Nobel Peace Prize Laureate Jose Ramos-Horta, later testified at a landmark hearing convened by Smith lying bare the human rights abuses under Indonesia's rule and the aspirations of self-determination by the Timorese people.

A former colony of Portugal, Timor-Leste was invaded by Indonesia in 1975 and occupied for almost three decades in spite of their distinct culture, and along with the Philippines is the only majority Catholic nation in East Asia.
Timor-Leste, formerly known as East Timor, gained formal independence from Indonesia in 2002. Smith held his first hearing on Timor-Leste in 1999, titled "The Humanitarian Crisis in East Timor," and was the author of legislation, H. Con. Res 405, calling on President George W. Bush to promptly establish diplomatic relations with Timor-Leste that passed the House with overwhelming support 405 - 1.
###