News Item
***Smith Helps Kick Off NJ Alzheimer's Event ***

Hundreds of Advocates Walk to End Alzheimer's
U.S. Rep. Chris Smith (NJ-04) helped launch the "Walk to End Alzheimer's" event at Veterans Park in Hamilton today, thanking the hundreds of walkers and volunteers for turning out to support the event.
Smith, co-founder and co-chair of the House of Representatives Alzheimer's Caucus, was invited by the host Alzheimer's Association to welcome walkers and speak about the fight to stop a disease that in New Jersey claims an estimated 170,000 victims who suffer from this form of dementia, and impacts more than 400,000 family members who are caregivers. More than 5.4 million suffer across the country of Alzheimer's.
"Everyone who came out here today is playing a role in the war against a disease which ravages people and their families," said Smith. "Friends, families and even some who have Alzheimer themselves. We must pursue a full court press in the battles for research, awareness and funding. We want to see a path to prevention, treatment, and someday, hopefully, a cure."
Smith announced that his bill, the "Health Outcomes, Planning, and Education (HOPE) for Alzheimer's Act," has earned the bipartisan support of a monumental 300-plus members of Congress. Smith, co-founder and co-chairman of the bipartisan, bicameral Congressional Task Force on Alzheimer's Disease, introduced HOPE to provide Medicare coverage for a care planning session for patients newly-diagnosed with Alzheimer's disease, family caregivers or legal representatives. He also spoke about his bill Kevin and Avonte's Law House, HR 4919, which he hopes will move in the House this fall.
The HOPE Act would provide coverage of a care planning session for Medicare beneficiaries where the individual, their caregiver or legal representative will receive information about medical and non-medical treatments to plan for their future care. A similar proposal was recently proposed by Centers for Medicare and Medicaid Services (CMS) for a temporary one-year trial.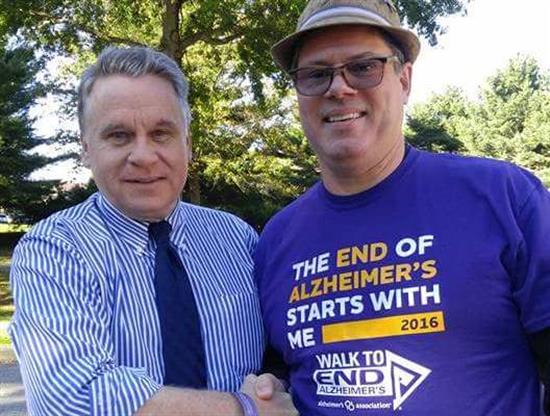 PHOTO: Alzheimer's patient Jeff Borghoff speaks with Rep. Smith about his experience with living with Alzheimer's Disease.
Mary Gerard, of Ocean Township in Smith's district, was pleased with the turnout. The primary caregiver for her mother who suffered from Alzheimer's for more than eight years before succumbing, Gerard said, "We're happy that Chris Smith could come and talk to our walkers about the HOPE Act bill and the Kevin and Avonte's Law. He's the leader in the House."
Catie Macklin, Executive Director of the Delaware Valley Chapter of the Alzheimer's Association, which ran the event, said the turnout from volunteer walkers was impressive.
"It was huge to hear from Chris Smith about HOPE and Kevin and Avonte's Law," Macklin said. "It's a lovely fall day for our incredible supports who walked today."
Not only would the care planning benefit authorized in the HOPE Act improve health outcomes for Alzheimer's patients, it is also expected to mitigate huge, unnecessary costs associated with preventable trips to hospitals and emergency rooms. This is especially important given the state of Medicare and Alzheimer's place as the most expensive disease in America.
Smith said the Kevin and Avonte's bill will reauthorize and expand an existing program, the Missing Alzheimer's Disease Patient Alert Program, to include children with a developmental disability—such as autism—and rename it the "Missing Americans Alert Program."
Wandering, which is also referred to as elopement, occurs when an individual leaves a safe area or a caretaker. Wandering is a safety concern for both seniors with Alzheimer's and children with autism. It is estimated that 60 percent of individuals with Alzheimer's and 49 percent of children with autism have wandered and we know that the results can be devastating: The legislation is named in honor of two boys with autism, Kevin Curtis and Avonte Oquendo, who both wandered from safety and tragically drowned.
According to the Alzheimer's Association, in 2016 alone, direct costs to American society of caring for those with Alzheimer's will total an estimated $236 billion, with just under half of the costs borne by Medicare. A cost estimate commissioned by the Alzheimer's Association and conducted by Healthsperien, a Washington, D.C.-based health care consulting firm, indicated that as a result of Smith's legislation, net federal health spending would decrease by $692 million over the 10-year period.
###