News Item
TAPInto Hamilton/Robbinsville

'Rep. Chris Smith: Re-Fueling Effort for Federal Rideshare Safety Law'
By ELIZABETH A MEYERS
Representative Chris Smith (NJ-4) has renewed his effort to bring "Sami's Law, named in honor of Samantha "Sami" Josephson, a Robbinsville resident, who was kidnaped and brutally murdered by a predator pretending to be her Uber driver near the University of South Carolina just months prior to her graduation in 2019, to the President's desk.
HR 1082, sponsored by Smith, a federal Sami's Law will require transportation networking companies (TNCs) like Uber and Lyft to deploy a verifiable digital access system to match drivers with passengers before the ride begins to enhance safety for the ride-hailing public.
"We must establish safety protocols and accountability in the system to protect rideshare customers who remain extremely vulnerable," said Smith. "As the nation looks to emerge from COVID restrictions, there will likely be a surge in travel and general activities, and thus a corresponding urgency to protect those who rely on Uber and Lyft services."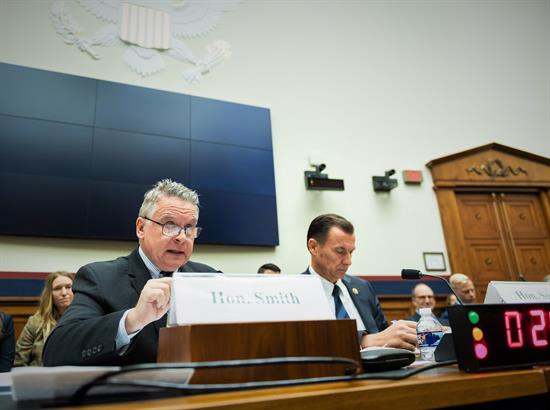 Reps. Smith (L), and Suozzi (R) testifying at the October 16, 2019 hearing.
In June 2019, Governor Phil Murphy signed Sami's Law in New Jersey to require ridesharing services such as Uber and Lyft will provide every driver with a unique identifier, such as a two-dimensional barcode, so that rider can confirm their identity prior to entering the vehicle. In October 2020, the New Jersey Motor Vehicle Commission (MVC) further strengthened the state rules mandating that every rideshare driver with a unique identifier, such as a two-dimensional barcode, to "make it easier and clearer for riders to confirm the identity" of ride-sharing drivers before customers enter the vehicle.
Underscoring the dangers, Smith cited Sami's tragic murder and pointed to a report released by Uber that found over a two-year period, 2017 to 2018, the company received 5,981 allegations of serious sexual assault in the United States, and 19 people were killed in physical assaults during or soon after an Uber ride
"Lives are at stake and people, especially women, who use rideshare services are vulnerable to sexual assault and other crimes," Smith said. "The Josephsons have made great progress educating rideshare customers about potential dangers, but none of us will rest until the modest and effective Sami's Law protocols are enacted and the public is better protected."
A federal Sami's Law would create a set of safety requirements including: creating a 17-member advisory council that reports to the Secretary of Transportation—SAMI's Council—comprised of federal agency and public stakeholders to advance safety standards in the rideshare industry; making it unlawful to sell, or offer for sale, ride-share signage, making it more difficult for imposters like Sami's murderer to pose as a driver; requiring a GAO report on the incidence of assault and abuse of both passengers and drivers; and mandating that the GAO also examine the nature and specifics of "background" checks conducted by companies and the varying standards set by States regarding background checks.
Sami's Law was unanimously passed previously by the House with the strong support of Speaker Nancy Pelosi and Republican Leader Kevin McCarthy but time ran out in the Senate calendar before unanimous consent could be achieved.

In addition, the Josephsons created the #WHATSMYNAME Foundation in ''honor of their daughter to educate the world on rideshare safety." They also came up with the idea for the legislation to help ensure no one else loses their life or is assaulted by a rideshare driver or a predator pretending to be their driver.

The above article was published online Feb. 19, 2021 and can be found online at: https://www.tapinto.net/towns/hamilton-slash-robbinsville/sections/government/articles/rep-chris-smith-re-fueling-effort-for-federal-rideshare-safety-law