Each year high school students from all around the Fourth District of New Jersey are invited to compete in the annual Fourth District Congressional Art Competition. Encouraged by art teachers and families, these ninth through twelfth graders submit their entries in late April with the hopes of being chosen the best in show, an honor that includes having their art work displayed in the United States Capitol Complex along side other winning entries from across the nation for the next year.

The process for submitting entries begins in mid-February of each year. This year, the date to submit all artwork and accompanying required forms is Monday, April 29, 2013 between 12 noon and 4:30 p.m. All artwork must be brought to the Georgian Court University Art Gallery on April 29, with judging to follow on April 30. Winners will be announced May 2 between 5-6 p.m. The art gallery is located on the second floor of the Arts and Science (directions below).

Click below for information on:
Guidelines
Student information and release form (must be complete and submitted with submissions)
Art submission checklist
General information

In 2012, 76 peices from nine high schools and one home schooled student participated from seven public high school, one Catholic and one private for Special Education students.

The winners of the Fourth Congressional District Art Competition in 2012 were:
Best in Show (displayed in Washington, DC) – Larissa Naegele " Blume" pencil self-portrait – Wall High School – 12th grade;
1st Place – Artemis Tapliga "Liberation of Letting Go" colored pencil – Wall High School – 10th grade (last years winner);
2nd Place – Mitch Douglas "A New Jersey Winter Evening" oil on canvas – Howell High School – 12th grade;
3rd Place – Brie Mueller "Baritone Self-Portrait" Chalk Pastel – Wall High School – 12th grade, and;
Honorable Mention – Michael Read "Reflection" photograph – Manasquan High School – 12th grade.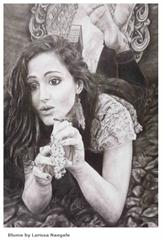 The 2011 winners were: Best in Show, "Runaway," Artemis Tapliga, 9th Grade, Wall High School; 1st Place, "Beyond the Eyes of Autism," Kerrie Hannen, 12th Grade, Colts Neck High School; 2nd Place, "Zeitgeist", Larissa Naegele, 11th Grade, Wall High School; 3rd Place, "Louie", Marissa Priolo, 11th Grade, Wall High School; Honorable Mention, "Spring Lake", Samantha White, 12th Grade, The Rugby School at Woodfield.

The 2010 winners were: Best in Show, Alexis Clark, 12th grade student at Wall High School, for "Tree House" in pencil; 1st Place, Heather Ehlert, 10th grade student at Wall High School, for "My Brother Colin" in pencil; 2nd Place, Victor Cortes, 11th grade student at Freehold High School, for "Still Life with Skulls" oil on canvas; 3rd Place, Alexis Papazoglou, 12th grade student at Freehold High School, for "Bathroom" oil on canvas, and; Honorable Mention, Larissa Naegele, 10th grade student at Wall High School, for "This is Not a Photo" in pencil.

The 2009 winners were: Best in Show, Mona Cao, eleventh grade at Freehold Township High School, for "Clasped Hands," in colored pencil or paper category; First Place, Amy Borch, twelth grade at Howell High School, for "In the Balance," in acrylic on canvas category; Second Place, Erin Loelius, twelth grade at Wall Township High School, for "Lips," acrylic; Third Place, Perry Santulli, twelth grade at Wall Township High School, for "Space Odyssey," pencil category, and; Honorable Mention, Larissa Naegele, ninth grade at Wall Township High School, for "Flower Child," pencil category.

The top prize in 2008 – best in show – went to Caitlin McCarthy, of Wall Township for her winning entry, "500 Starbucks Later." First place went to Danielle Sobol of Wall Township for her entry, "Times Square." For winning the first place prize, Danielle is also eligible for a scholarship opportunity from Georgian Court University. Other winners in the 2008 competition include Jolie Menzel of Point Pleasant, Sabrina Hayes of Point Pleasant and Mary Fenton of Wall Township.

I would like to thank all of the outstanding and creative students who participated in this contest. I encourage all aspiring high school-aged artists in my district, attending public school, private school or being home-schooled, to begin planning their entries now for the next year's competition.

I would also like to thank Georgian Court University for hosting the art exhibition. Their gracious hospitality, as well as rewarding the winners with a scholarship to further their education is much appreciated.

If you are a high school student or art instructor in the Fourth Congressional District who is interested in participating in future competitions or would like additional information, please contact Jennifer Courtney at my Hamilton District Office at 609-585-7878.

Additional information:

Georgian Court University (click here for directions)
900 Lakewood Ave.
Lakewood, NJ 08701
(The address to use for car navigators, GPS or computer directions is: 517 Ninth Street, Lakewood, NJ 08701)
Click here for an interactive map of campus (Arts and Science Center is listed as location 2)