Press Release
Rep. Smith, Mayor Reid Announce Early Dredging for Manasquan Inlet
As a result of the quick action taken by two elected officials, the U.S. Army Corps of Engineers (USACE) has agreed to perform emergency dredging of the Manasquan Inlet to maintain safe navigation for boat traffic, Rep. Chris Smith (R-NJ) announced today in Point Pleasant Beach, where he was at the invitation of Mayor Steve Reid to inspect areas of the inlet first-hand.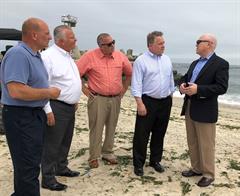 (Pictured left to right): Point Pleasant Beach Borough Councilman Andy Cortes, Mayor Steve Reid, Councilman Bob Santanello, Rep. Smith, and Ray Bogan, Counsel to N.J. fishing industries.
In late April, Mayor Reid contacted Congressman Smith requesting assistance with "an urgent navigation issue"—the shoaling at the mouth of the inlet resulting in shallow channel depth. Since the inlet is a federally-maintained channel, Smith reached out immediately to the Army Corps of Engineers to report the local concerns and request that the Corps survey the channel depth to determine if additional sand was building up in the channels and decreasing navigation.
"Our regional economy—commercial fishing, recreational fishing, boating and summer tourism, AND all the jobs these activities generate—depends upon the health and safety of the Manasquan Inlet," said Smith who represents several shore communities in Ocean and Monmouth counties. "I am grateful that the Mayor brought this potentially devastating problem to the fore and appreciate that the Army Corps responded with a fact-finding survey and a critical decision to dredge as soon as possible."

After being contacted by Smith, the USACE performed a channel depth survey on May 2 and confirmed the shoaling near the entrance to the inlet channel. The authorized depth of the channel for safe navigation is 14 feet Mean Lower Low Water (MLLW), and the USACE survey indicates some areas which are less than that.

"According to the Army Corps, the January 2018 survey shows a clear channel, so the shoaling has occurred since then and fairly rapidly versus previous years," Smith added.

Though the government's dredge, the Currituck, was scheduled to perform regular maintenance dredging in late July, Smith pressed the Corps to have an emergency "clean up" dredging take place sooner to clear the additional sand and maintain a safe channel.

Today, the Corps announced that they are making arrangements for the dredge to arrive in approximately two weeks for two 24-hour dredging days.

"This emergency dredging the Army Corps is scheduling for mid-June will likely not remove the entire shoal, but it will help to greatly alleviate any navigation issue until the maintenance dredging occurs in July," Smith added.

"So, from our standpoint, from an industry standpoint—both as Marine Trades Association, Recreational Fishing Alliance, United Boatmen, all of the entities that represent people who utilize this inlet, and then the general public—can't thank the Congressman enough nor the Mayor enough. This is a big, big deal," Ray Bogan, legal counsel for the Marine Trades Association of New Jersey, Recreational Fishing Alliance, and United Boatmen of New Jersey.

"We are grateful that the Congressman stepped in proactively on this issue," said Mayor Reid. "The commercial and recreational fishing industries in Point Pleasant Beach and the surrounding communities generate millions of dollars of revenue annually, employing hundreds of area residents."

Reid added, "Assuring that the Manasquan inlet remains one of the safest and most navigable waterways in New Jersey is critical to the survival of our fishing fleet and the people and businesses which serve it."